Online Demo / Manual- Gateway Installation List
---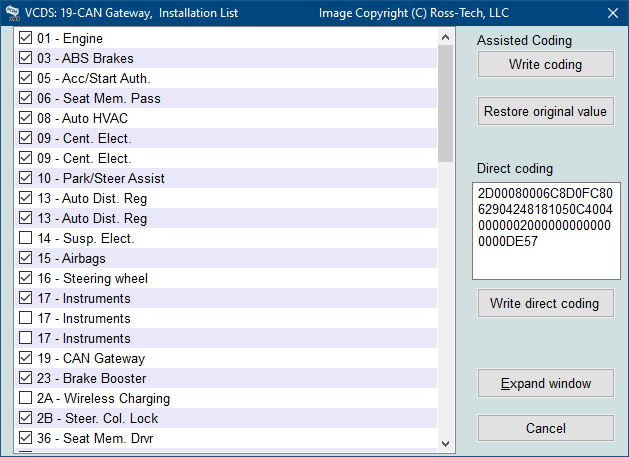 On many newer vehicles, the Gateway Installation is not accessible via Long Coding. In such cases, use the [Installation List] button in the Open Controller screen for 19 -CAN Gateway to access this screen. This function is available in all Gateways that support an Installation list.
[Write coding] will tell the Gateway to "register" each of the checked modules.
[Restore original value] will undo any of the changes you have just made. It will NOT restore the values that were originally in the car from the factory.
The Direct coding shows the value of the bitfield coding in the Gateway Installation List and allows you to edit it. This only works on UDS Gateways and some CAN Gateways. Direct coding allows for an easy transfer of the installation list information in case of control module replacement. For general retrofits etc. use the checkboxes instead.
[Write direct coding] will send the contents of the Direct coding box to the CAN Gateway.
[Expand window] will make the window size taller to accomodate all of the entries in the list.
[Cancel] will take you back to the Open Controller screen for 19-CAN Gateway without making any changes.
---
---
Unless otherwise noted, all content on this site is Copyright (c) 2000-2021 by Ross-Tech LLC. All rights reserved.
"VCDS", "VCDS-Mobile" and "HEX-NET" are Registered Trademarks of Ross-Tech, LLC.
Ross-Tech is not affiliated with the Volkswagen Group in any way.