Common Diagnostic Procedures
Updated 14 February 2022
These pages detail some common vehicle-specific procedures that can be performed with VCDS. These are not a substitute for the correct
Factory Repair Manual
for your vehicle. Ross-Tech is not responsible for any damage or problems that may result from following these instructions. They are to be used at your own risk. We will be adding more pages periodically and welcome any comments or suggestions to
Support@Ross-Tech.com
---
---
---
---
---
---
Some useful off-site links
Some excellent Excel spreadsheets that use data from VCDS (thanks to ukaussi@cox.net).
Right-click, save-as
Stoney's Audi A6 FAQ
All sorts of AudiWorld threads about diagnostics.
Paul Waterloo's AudiPages Audi A8 Transmission Coding Page
Transmission recoding for sportier performance.
The "Butt Dyno" Spreadsheet
How to calculate wheel horsepower and torque from acceleration and deceleration data.
Shiftpoints Analysis Spreadsheet
How to determine shiftpoints for optimal acceleration.
http://forums.audiworld.com/allroad/msgs/32165.phtml
A great thread on using VAG-COM to permanently alter Audi Allroad suspension height. This is also known as the 402 Mod.
Automobile Museums Map
A map of automotive related museums in the United States
---
Good sources to learn more about what you can do with your car:
Ross-Tech Sponsored Forums:
Ross-Tech Forum
(This is the official forum for VCDS Support)
AudiWorld VCDS VW/Audi Computer Diagnostics Forum
VWVortex VCDS Diagnostics Forum
---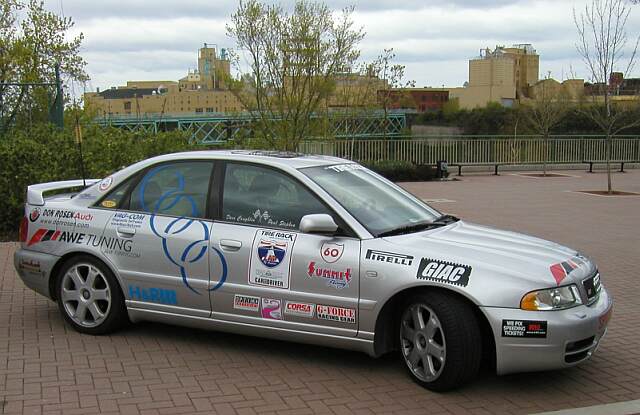 Ross-Tech customer Dave Coughlin's S4,
ready to run in the 2002 One-Lap
---
Unless otherwise noted, all content on this site is Copyright (c) 2000-2021 by Ross-Tech LLC. All rights reserved.
"VCDS", "VCDS-Mobile" and "HEX-NET" are Registered Trademarks of Ross-Tech, LLC.
Ross-Tech is not affiliated with the Volkswagen Group in any way.