Home
Products
VCDS
Support
Online Demo / Manual - History Data
---
In vehicles that support it, VCDS can retrieve Battery History Data that is stored in control modules such as 19-CAN Gateway or 61-Battery Manager. The quantity and type of information available is dependent on the specifics of the vehicle and module but may include such items as the last time the battery was charged..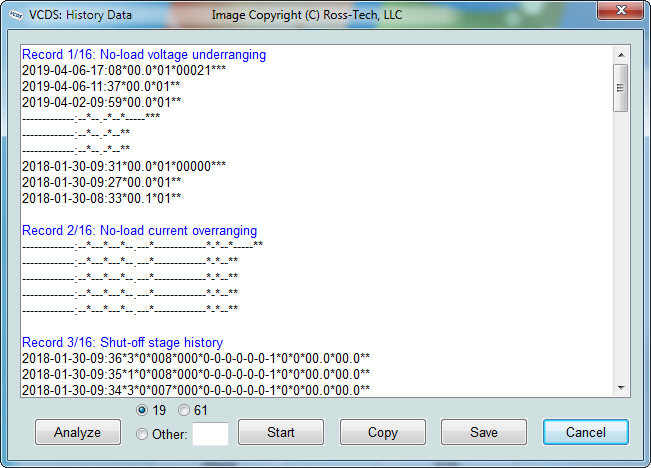 Select the radio button for the control module with Battery History Data (typically 19 or 61) or type in the address. Next click [Start] and the window will fill in with raw data. You can [Copy] the data to Windows Clipboard or [Save] the data to your Logs folder. Click the click [Analyze] button to display the data in VCDS-Toolbox, which is installed with VCDS and is explained in this forum thread: forum thread. An example screenshot from the VCDS-Toolbox is shown below:

Use [Cancel] to return to the Applications screen.
---
Home
Products
VCDS
Support
Online Demo / Manual - History Data