Online Demo / Manual- Advanced ID
---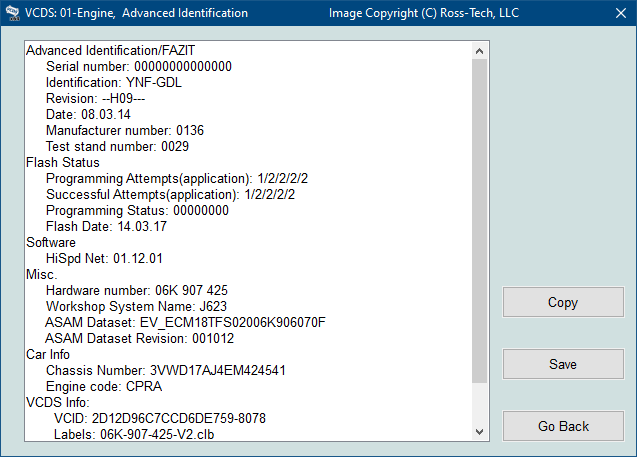 Corresponds to VAS-5051/5051 "Identification Services"
This function displays additional (and sometimes quite arcane) identifying data from the control module which does not fit on the Open Controller screen.
Notes:
The Advanced ID function is not available on control modules using the old KW-1281 protocol.
The amount of data appearing on this screen will vary based on what the control module supports.
[Copy] will copy the information shown on this screen to the Windows Clipboard. Once you have pressed the Copy Codes button, you may paste the results into the application of your choice, such as MS Word or Notepad.
[Save] will save a plain-text report to your PC, typically in this directory: C:\Ross-Tech\VCDS\Logs\
Use [Go Back] to return to the Open Controller Screen.
---
---
Unless otherwise noted, all content on this site is Copyright (c) 2000-2021 by Ross-Tech LLC. All rights reserved.
"VCDS", "VCDS-Mobile" and "HEX-NET" are Registered Trademarks of Ross-Tech, LLC.
Ross-Tech is not affiliated with the Volkswagen Group in any way.