VC-Scope
Open-Source / Freeware
Graphing "Plug-In" for VCDS
(VC-Scope is included when you download VCDS)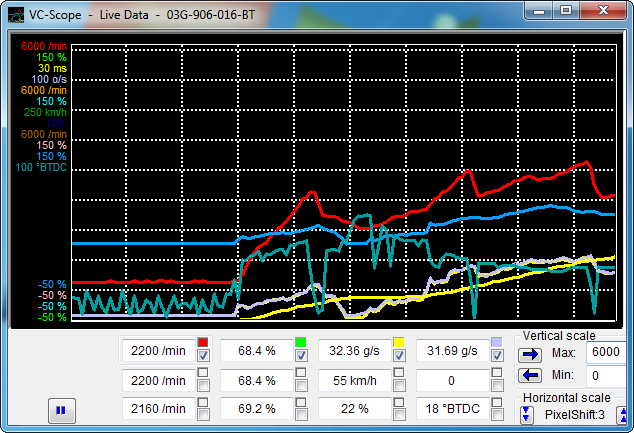 Quick Instructions:
You can use VC-Scope in one of two ways:

View live data while connected to a car by launching VAG-Scope. Click the

[Graph]

button on VCDS's Measuring Blocks screen,
View data previously logged with VCDS by manually starting VC-Scope in stand-alone and opening a VCDS Log file

You cannot do both at the same time.If VC-Scope is running in Stand-alone mode, VCDS will not start. If you manually start VC-Scope while VCDS is running, it won't work (should give an error message).
Use the checkboxes next to each display field to select which items are graphed.
Click on a field to select it for vertical scaling.Then change the Max and Min values in the Vertical scale boxes. VC-Scope will remember all scaling values for a particular control module by part number.
Click the VC-Scope icon on the top left of the main VC-Scope screen for a menu item to access a Preferences Dialog: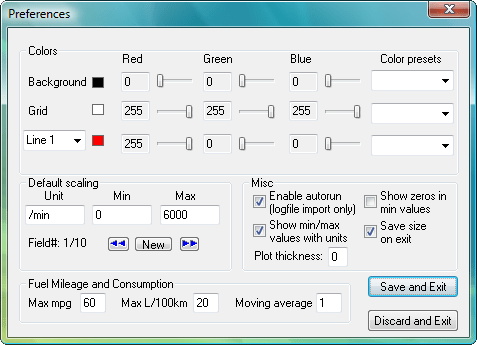 Preferences:
Here you can set colors for the graph lines, the graph background and the grid.
You can also set default scaling values (based on the units that VCDS sends)
Gauges:
To display a gauge, right-click in the small color square next to the data you want to see on the gauge:

You can have as many gauges as there are lines on the graph.
Each gauge can be independently re-sized and repositioned.
Right-clicking on the gauge itself will give you several options: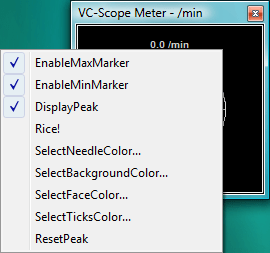 Notes:
VAG-Scope can be used to play back Log files producedby any version of VCDS but only if they have not been saved or modified by any other program.
VC-Scope is included in the all VCDS releases available on our Download Page, but you may find a newer version of VC-Scope on the VC-Scope Download Page.
Related links:
---
---
Unless otherwise noted, all content on this site is Copyright (c) 2000-2021 by Ross-Tech LLC. All rights reserved.
"VCDS", "VCDS-Mobile" and "HEX-NET" are Registered Trademarks of Ross-Tech, LLC.
Ross-Tech is not affiliated with the Volkswagen Group in any way.