Online Demo / Manual- 7-digit PIN/SKC
---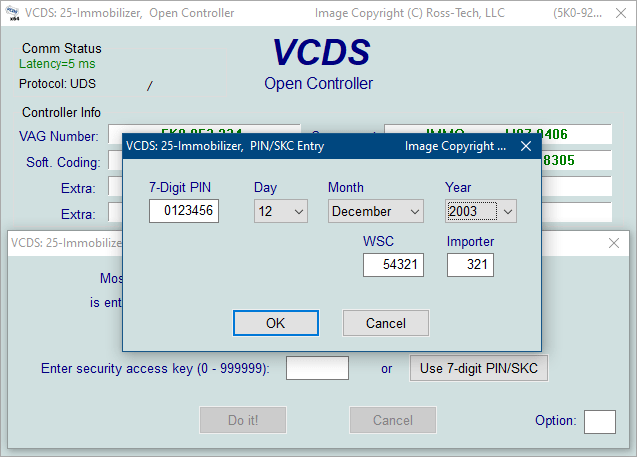 The 7-digit PIN/SKC (Secret Key Code) dialog is used for Key Matching and Immobilizer 3 Adaptation. This function is still in VCDS but is pretty much obsolete since VW/Audi stopped giving out 7-digit SKC's in 2005. Just in case you got your 7-digit SKC before then (along with the necessary WSC, Importer and date the code was generated), Immobilizer type information and instructions on using this function can be found here.
Important: Unless you ALREADY have the SKC information for your vehicle and components then you will NOT be able to do any of the Immobilizer functions.
---
---
Unless otherwise noted, all content on this site is Copyright (c) 2000-2021 by Ross-Tech LLC. All rights reserved.
"VCDS", "VCDS-Mobile" and "HEX-NET" are Registered Trademarks of Ross-Tech, LLC.
Ross-Tech is not affiliated with the Volkswagen Group in any way.