Home
Products
VAG-COM
Support

Online Demo / Manual -
View Readiness Screen
---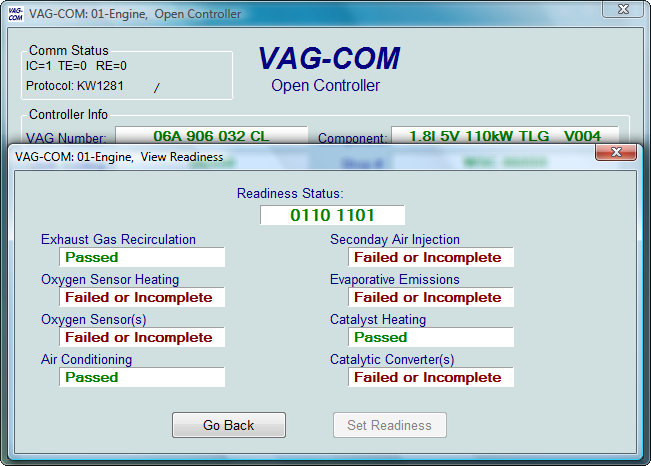 Corresponds to VAG 1551/1552 function 15

The Readiness Code is a set of 8 bits, each of which corresponds to one monitored emissions "system" in an OBD-II car. When all readiness bits show "Passed", it means that all systems have been checked and have passed the on-board tests.

Whenever you clear DTC's or remove power from the ECU, all readiness bits will be set to "fail". Most cars do not have all 8 systems, so as soon as you apply power again, the bits corresponding to systems that are not actually in the car will come up "Passed" again.

It takes a variety of specific driving conditions to "test" all the systems. It can be done in a short time using a very specific and complicated procedure found in the On Board Diagnostic section of the Factory Repair Manual for your engine. The alternative is just to drive the car for 2-3 days. Make sure you include at least one short highway trip, and your Readiness Bits should all read "Pass" again.

Use [Go Back] to return to the Controller Information Screen.

As of version 409.0 VAG-COM also Decodes Readiness bits into meaningful data on modern TDI engines (a VAG-COM exclusive, not even the VAS-5051/5052 does this!):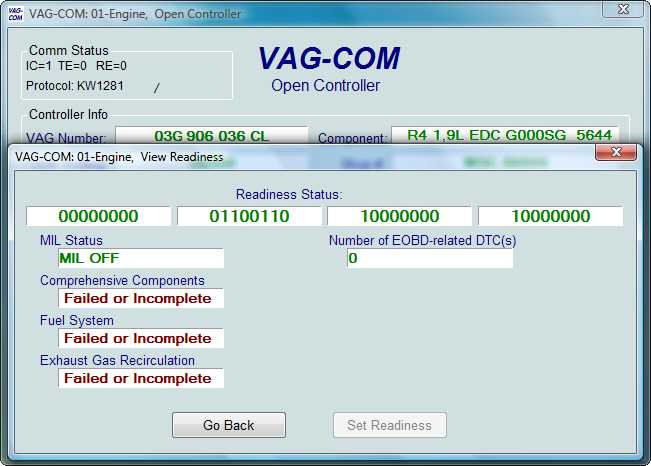 Notes:

This function is only available on Engine Controllers that are OBD-II compliant (all 1996 and newer US-Model gasoline engines).

Non-US models and older TDI's may not support this function even though they are otherwise OBD-II compliant. OBD-I did not require any "monitors".

12V 2.8L V6 engines may have readiness bits stored in or near Measuring Block Group 029.

Support for Guided Readiness Scripts.
Accessible from the Readiness screen, this function will guide the user through the process of setting Readiness on those engines which support it.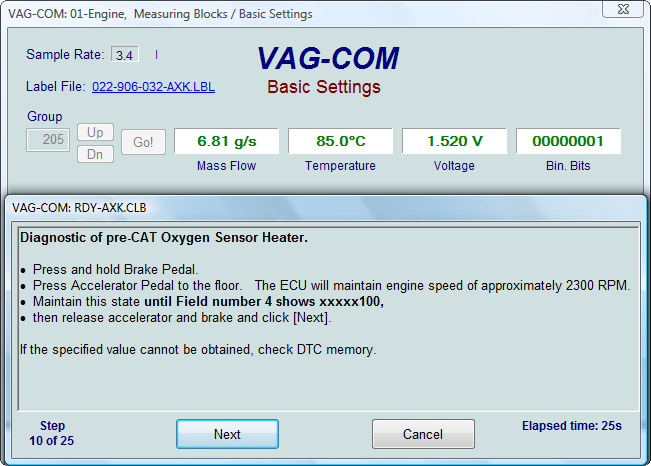 Note: The Guided Readiness Scripts require supporting data in Label files. Support in the labels shipping with Release 704 is very limited. We hope to have most US-model engines covered in the near future. If you have a specific engine you would like to see covered and have a written procedure for it, please contact us.
---
Shareware Limitation(s): None.
---
Home
Products
VAG-COM
Support
Online Demo / Manual - View Readiness Screen