Home
Products
VCDS
Product Information
Problems/Issues
Audi Issues VW Issues Seat Issues
---
VW Issues & Problems
2009+ Golf/GTI/Jetta and similar no communication with 46-Cent. Conv. or 09-Cent. Elect.
For many 2009 and newer vehicles, including the Golf 6 models, a newer 09-Central Electronics module replaces the previous generation 46-Central Conv. module. Many Coding or Adaptation values that were previously 46 modifications are now in 09. A "virtual" entry for 46 is still included in the Gateway Installation List for compatibility reasons (internal communications with other modules in the car). Please note that the vehicle doors must be unlocked or you might not be able to access 09-Cent.Elect. With the ignition ON, try locking then unlocking the doors using the button(s) inside the car.
2000-2001 Golf/GTI/Jetta/Beetle Airbag System (important!)
Update: All part numbers of airbag controllers should work fine with current versions of VCDS when used with our current Interfaces.
We have had a number of reports of Air Bag Warning Lights staying on permanently after scanning with VAG-COM versions prior to 402.3. The Air Bag Controller shows DTC number 65535, indicating an internal error which cannot be cleared.

This problem seems to be limited to airbag controllers with the part number 6Q0-909-605-A. There are a number of different "Index" or "color-code" variations of this controller and not all of them are affected, but we haven't got a definitive list of which ones are which. If you have a 2000-2001 Golf, Jetta/Bora, Beetle, or a similar SEAT or Skoda model, you should physically inspect the airbag controller and look at the part number. If it is not 6Q0-909-605-A, then it should be safe to scan. The part number is both the numbers as well as the letters. So, if it is 6Q0-909-605-F, then it should be safe to scan. If it is 6Q0-909-605-A, then it is at risk of this problem -- Please avoid scanning the airbag controller in these cars, unless you are prepared to buy a new one!

So, can you unintentionally connect to the Airbag controller? When you try to access the Airbag controller, you need to click on Airbags in the Select Control Module screen. Then, you are confronted with a disclaimer screen asking if you really want to proceed, the default answer is "No". We have no reports of people scanning their airbags by mistake with these safeguards in place. Also, please note the disclaimer on the Download Page. If you have a vehicle with the affected part number and are concerned, simply do not scan the airbag controller. Accessing the other control modules in the car should not affect the airbag controller in any way.

Comment: There is no way that scanning a controller should cause it to become dysfunctional in this manner, even if the scan-tool fouls up in some way. We believe there is a bug in the firmware in these controllers. We also believe VW knows this, but isn't admitting it. The affected controllers are no longer available as replacement parts, they have been superceded by a new part number -- 1C0-909-605-A which appears not to have this problem.

Here is the location of the airbag Controller in the Golf/GTI/Jetta: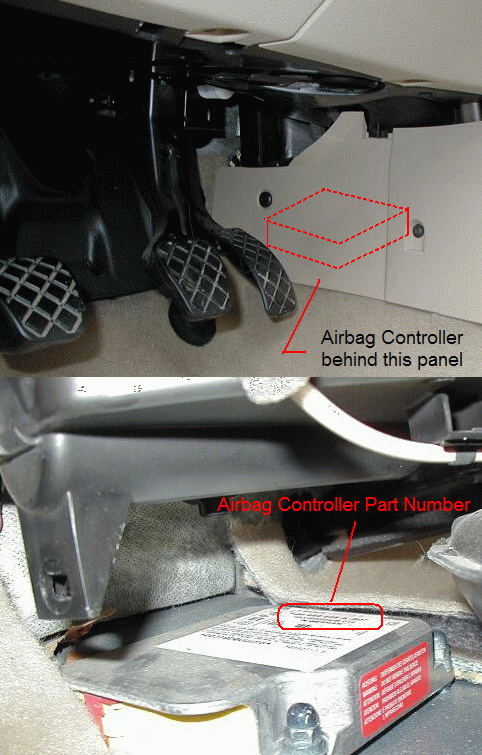 (Thanks to Drew Weirshousky for the excellent photos!)
Update: Although the root cause of the problem is definitely a bug in the module's firmware, we think we finally figured out why these modules have a greater propensity for setting the 65535 code when accessed with VAG-COM than with the dealer's tools, and how to avoid this. While we are certain that we have identified one thing that can cause the 65535 DTC to set, we cannot be certain that we have identified everything that could cause it. So the standard warning message will remain in VAG-COM, at least for the time being. With the Intelligent HEX Interfaces, the chance of having VAG-COM trip this bug in the airbag controller is much less than with a "dumb" interface. Beta 402.3 and newer have some additional safeguards in it specifically designed to avoid this issue. So if you want the safest possible thing, download and install the latest Release 404.0 or newer and use that with one of our current Interfaces on this airbag controller. Of course, we still can't give you any guarantees. The fault arises out of a bug in the firmware of the control module itself. The best we can do is to try to avoid "waking" that bug.

In addition, if VCDS has any difficulties connecting to the airbag, you may see a screen like this. If you see this screen, please do exactly what it tells you!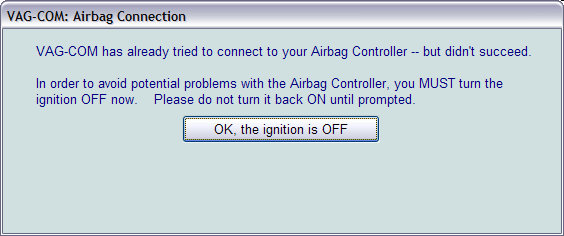 1997 Passat B5 Central Convenience System
These controllers seem to have a bug that causes them to drop the communications session when VAG-COM requests the door-slave controller "Extra" info. A work-around is available in Version 0.70e which simply does not request any "Extra" info. If you have a 1997 B5 Passat (non-US models only), use 0.70e on the Central Convenience system. 1998 and newer Passats do not have this problem.
Works fine with the HEX Interfaces. If you're using a "dumb" interface, you must set the Start Baud on the Options Screen to 4800 to get these to work. If you have anything else in Starting Baud Rate, the ECU will "choke" and you'll need to turn the ignition OFF and back ON again before you can communicate.
1990-1993 Cabrio/Cabriolet Airbags
These controllers do not communicate with VAG-COM. In fact, they do not communicate with Volkswagen's VAG-1552 scan tool at all! These controllers do not communicate with Volkswagen's VAG-1551 scan tool either, unless the 1551 has an old, outdated program card installed.
1995-2000 VW Sharan Electrical Controller (address 09)
These controllers have some strange bugs in the protocols which prevent them from working with VAG-COM. This problem only affects [09 - Elec. Ctrl. Mod.] All other controllers in the Sharan should work fine with VAG-COM.
Update: A work-around for this bug introduced in version 408.1 solves this problem.
---
Home
Products
VCDS
Product Information
Problems/Issues
Audi Issues VW Issues Seat Issues